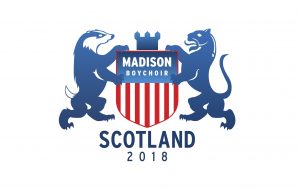 Aberdeen International Festival of Youth Arts 2018
In Summer 2018, MYC's Purcell, Britten, Holst and Ragazzi will travel to Scotland for the new 2018 Aberdeen International Festival of Youth Arts (Friday, July 27—Saturday, August 4).
REMEMBER: Rehearsals begin on Tuesday, July 17. We can't wait!
Required Rehearsals and Trip Dates
May 21 (6-8:30pm)
June 3 (4-6:30pm)
June 7 (5pm family meeting; 6-8:30pm rehearsal)
July 17 (9am-3pm)
July 18 (9am-4pm)
July 19 (9am-4pm)
July 20 (9am-3pm)
July 22 (6-8:30pm)
July 23 (10am-4pm)
July 24 (send off concert, evening)
July 25 (final family meeting, evening)
July 26-August 5 Scotland!
FAQ
Can we arrange to pick up our singer before the end of the festival?
No. Singers, chaperones and staff are committed to staying with the group until our departure day. We'll let you know the earliest time/date singers may be picked up in Scotland if they are not returning with the group.
Can we use MYC fundraising to help with the cost?
No. Unfortunately, IRS rules do not allow individual, receiptable donations to provide a private benefit (like a tour). Additionally, the IRS does not allow private members of a group to use group fundraising for a private benefit (like a tour).
If we went to Scotland in 2014, will we see the same sites?
Yes and no. Some things will be the same: living in Hillhead on campus, Aberdeen, of course, and we'll definitely visit Dunnottar (that will always be a priority). Our performance venues, however, will likely be different. That's a good thing! Scotland is full of wonderful surprises. 🙂
Can I make payments with a credit card?
Yes, but you'll charged an additional fee just like paying tuition via credit card.
Is there any kind of travel insurance included in the estimated cost?
No.
Do chaperones have single rooms?
Yes, everyone has a single room.
Is there any free time for singers/chaperones?
Not really. We move as a group from place to place. There will be opportunity for choice, opportunity to be with small groups, and some "down time", but not a ton.
How can I see the performaces in Aberdeen if I'm coming separately?
We'll communicate that information as plans develop, but we won't have this information until June at the earliest. Many venues will be tickets-at-the door.
My singer has special dietary needs.
We will work closely with the festival to meet those needs. We'll be asking for that information as we move closer to the trip to work with the festival on arrangements, but if you have a specific question, please contact us.
Calendar
You'll find all summer rehearsals here and we'll add more details about our actual trip as we learn them (our performance schedule, for example). If you can't see the calendar, please try re-loading this page. 
Pictures from our Burns Supper in January 2018.
All pictures by Brad and Joanie Crump.