Get in touch with us by using the form below:

Michael Ross, Artistic Director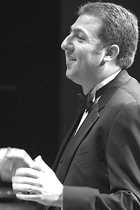 Artistic Director and Conductor of Cantabile and Ragazzi
---
Michael Ross has worked for the Madison Youth Choirs since 2003, first as Artistic Director, and since 2013 as Artistic/Executive Director. He was previously the Music Department Chair and Vocal Music Teacher at Madison West High School. Michael was the Tallis (training choir) instructor for the former Madison Boychoir for ten years. He has both Bachelor's and Master's degrees in Music Education from UW-Madison, where he studied with Robert Fountain, Beverly Taylor, Julia Koza, and Anthony Barresi. Michael has also taught at the University of Wisconsin-Madison Summer Music Clinic, conducted the University Chorus at the University of Wisconsin-Madison, and led the former Basso Continuo choir of the Madison Boychoir.
Michael has been active in state music organizations, having been the choral chair for the Wisconsin Music Educators Association, accompanist for the Wisconsin Choral Directors Association's Next Direction conference, and both section leader and accompanist for various WSMA and WCDA State Honors Choirs. Michael is a member of the Voice Care Network, and has been named several times to "Who's Who Among America's Teachers". He is also an active clinician throughout the United States; in 2014 he conducted the WCDA (Wisconsin) All-State Children's choir and in 2016 he conducted the Colorado Middle All-State Treble Choir.
Lynn Hembel, Executive Director
Executive Director
---
Taking her cue from the Handbook of How to Succeed in Business with a Liberal Arts Degree (English and Art History from UW-Madison), Lynn paid attention in class and learned how to type.  This led to myriad opportunities, mostly beginning with the word "temporary". Knowing that temporary is never permanent, she persevered and landed a career directing human resources for a global investment management firm in San Francisco. This she loved very much, almost as much as art history.  
When MYC succeeded in teaching her whistling boys how to sing, she became a devoted volunteer and their biggest fan, eventually joining the full-time staff in 2010. As Executive Director and co-leader of MYC with Mike Ross, she considers it a privilege to contribute to the vibrant youth arts landscape in Madison. As part of the leadership team that created and built MYArts (MYC's permanent home) she will forever be grateful to the supporters who caught the vision for this essential community asset and made it happen. Outside the office, when she's not on her bike, she's playing with Bean Sabine the MagnifiCAT, her adorable Tabby.
Nicole Sparacino, Development Director
Development Director
---
Nicole Sparacino, Development Director, joined the MYC team in 2013 and is thrilled to support the mission of such a thoughtful and creative performing arts organization. Nicole is a graduate of UW-Madison and the Cooperstown Graduate Program in upstate New York. She has worked with Wisconsin Youth Symphony Orchestras, Wisconsin Historical Museum, Milwaukee Public Museum, and The Theatre Museum in New York City. Outside of MYC, Nicole stays busy chasing after her sweet rascal son, hunting down great new restaurants with her husband, and cooking to the sounds of obscure Broadway cast recordings.
Ian Disjardin, Operations Manager
Operations Manager
Born and raised in the understated metropolis of Manitowoc, Wisconsin, Ian learned how to avoid whittling down his interests so that he could stay busy all the time. In between reading books, writing stories, theater acting, TA-ing for a History Teacher and being in too many music classes, Ian's band teacher made him apply to UW-Madison's percussion studio and still owes that band teacher because Ian was lucky enough to be accepted.
After moving to Madison for school and realizing he would prefer not to leave, Ian has done a wide variety of things for fun and for employment. Getting very lucky once more, he was hired part time with MYC setting up chairs and relished the opportunity so he could one day contribute to more than just the furniture arrangement. When not seen around the MYC studios you will likely find him reading, trying to learn something new, or giving attention to one of his six pets.
---
Katie Paape, Operations Assistant
Board of Directors
Madison Youth Choirs is a 501(c)(3) not-for-profit organization governed by a volunteer Board of Directors that meets monthly. These volunteers are parents of choir members, alumni, and/or representatives of the community at large. The Board of Directors is responsible for developing and implementing a strategic plan, developing policies for the organization, and assisting with fundraising activities.  
Board Members
2022-2023 Board Members:
Teague Mawer, president
Jennifer Lattis, vice-president
David Schmiedicke, treasurer
Michelle Kruse, secretary
Laurie Fellenz, past president
Matthew Clayton
Dan Lyons
Eva Marley
Arvina Martin
Wendy Weiler